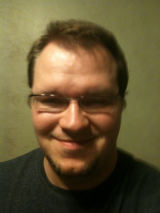 I'm watching you AppDevs
Speaker Bio:
Rob is a bona fide Alpha Nerd. He is the Senior Data Magistrate for the government in the Prism division where he specializes in data collection and data profiling.
When he isn't lording over AppDevs and Architects, he can be found truncating vast amounts of pizza, ETLing burritos and breaking down the execution plans of video games.
---
Biography:


In the early 1900's, the data world was overrun by architects and project managers. Needing to bring some relief to the industry, then President Taft appointed Rob as the first Data Magistrate. From humble beginnings, he rose to inspire hope and change amongst data stores of all types. He saved countless tuples during the Great Data Civil War of the 90's and helped found the ORM-pathy group designed to help less fortunate data models get a second chance at production. He currently resides in Oklahoma City with his partner Postgresql and their pet Redis.